BRYAN BAEUMLER
HGTV CANADA CELEBRITY CONTRACTOR

Bryan doesn't believe he's put in an honest day's work unless he gets his hands dirty. A natural-born teacher, the Gemini-award winning host has been educating and entertaining viewers across Canada and in 23 different Countries Worldwide since 2007 on the hit shows Disaster DIY, Canada's Handyman Challenge, Leave it to Bryan, House of Bryan, Bryan Inc. and Island of Bryan. Bryan's quick wit and easy-going personality have made him a huge hit with viewers on all of his home renovation shows.

Learning valuable tricks of the trade from his father, a meticulous aircraft engineer, Bryan spent his childhood summers building his family's cottage from the ground up. After earning a degree in Political Science and studying Business, Bryan was headed towards a career of practicing law. Realizing he'd rather be renovating than being chained to a desk, his innate passion for building took over and he attended construction courses at George Brown College, officially traded in his tie for a tool belt and founded Baeumler Quality Construction.

A few kids and number of hit TV shows later, Bryan continues to tackle home renovation projects, be the spokesperson for numerous products and expand his growing businesses to include Baeumler Productions, Baeumler Approved and Baeumler Custom Cabinetry among others. Currently filming season 2 of Island of Bryan with wife Sarah, viewers watched season 1 in record numbers, while they restored a small abandoned resort on South Andros Island in the Bahamas! In Island of Bryan, we follow the story of this radical life event for the Baeumlers, from a dream of creating and running a luxury boutique resort in paradise, to the reality of leaving their friends, family and life behind to take on their most challenging build yet. For more information about Bryan, visit bryanbaeumler.com.
Presented by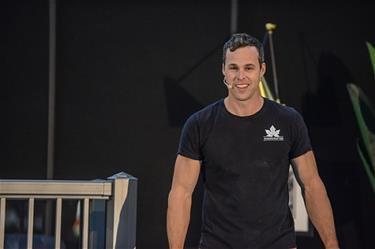 CHRIS PALMER
As a professional Industrial Designer turned Carpenter and Contractor, Chris has brought a new perspective to the world of handcrafting beautiful custom builds. With over 10 years of experience, his company focuses on all levels of projects from custom furniture pieces, to complete home additions. A creative eye and unique style keeps Chris on trend and his work in demand. Chris often participates in many charities donating his work to help raise money for groups such as Diabetes, Habitat for Humanity and others. You can also find Chris sharing his knowledge on the latest and greatest home renovation tips for DIY'ers as a regular guest expert on The Global Morning Show and other daytime TV, such as The Marilyn Denis Show. You may also recognize Chris from other HGTV shows like Canada's Handyman Challenge, Income Property, Open House Overhaul and Backyard Builds.


THE URBAN BOTANIST
The Urban Botanist or Emma / @emmaterra from Ottawa, Ontario is a naturalist at heart with a passion for plant design. Emma's extensive biology background catalyzed her career and interest in botanics and ultimately lead to the start-up of her business, The Urban Botanist. She believes in bringing the outdoors inside with self-sustaining ecosystems by building terrariums and other green home accents. The Urban Botanist encourages others to learn about our environment and the systematics of plants to ultimately inspire interest in the natural world around us. She also heavily believes in the power of plants, and the healing properties that come alongside gardening and working with horticulture in an urban setting. Expect to get a dose of plant therapy, as these concepts are promoted at all of her workshops. Discover your green thumb with The Urban Botanist!
SUE PITCHFORTH
Sue Pitchforth of Décor Therapy Plus is an International award-winning Designer and Readers' Choice Winner for eight years in a row. Sue is a TV personality and professional speaker. Her workshops and seminars are extremely popular, inspiring thousands of homeowners. Currently, Sue is changing the design industry with her newest program "Design from a Distance". Sue is excited to be back at the Ottawa Fall Home Show and is ready to inspire homeowners to bring their personality to their indoor and outdoor spaces.
GUY SOLOMON
Guy Solomon is the founder and CEO of Penguin Basements, Canada's leading basement renovation company. He started in 2011 to bring a standard of process and professionalism to a burgeoning industry.
Guy is also creator of The Second Suite Solution, a wealth-building strategy designed to help homeowners create strategies for unlocking enduring value in their property. As a leading innovator in the area of construction solutions, Guy is a sought-after speaker and authority across a range of building related subjects.
Anita Murray
Anita Murray is co-founder of
AllThingsHome.ca
, Ottawa's only comprehensive source of unbiased information on buying, renovating and maintaining your home. The veteran journalist and former Homes Editor at the Ottawa Citizen has covered the local housing industry since 2011.